14 Feb 2014 - 01:52:01 pm
How to Fix a Peerless Faucet
Having a home means having to keep up that home.† In addition to keeping it clean, you will have to make sure that the appliances and other things that keep your home comfortable are functioning properly.† We donít pay much attention to many of these things as we use them on a daily basis unless they become broken or they are having some sort of problem.† Among these items we use on a daily basis is our faucets; in the kitchen, bathrooms, and sometimes our laundry rooms.† We use them to wash our hands, our dishes, and sometimes our clothes, just to name a few of their functions.
When a faucet stops functioning properly, it can cause a number of different problems.† It is hard to get your dishes clean if your faucet is leaking out of the handle so much that you canít get enough water to flow out of the spout to be effective.† If your bathroom faucet is leaking, not only is water being wasted, but you will hear the constant drip, drip, drip or trickle of water that comes along with the leak.† If these problems arenít fixed as soon as possible, they can become worse and can cause other problems that can result in expensive consequences.
When dealing with a kitchen faucet, there can be a few different problems.† If the faucet is leaking from the handle, it most likely has to do with something within the unit or as some people refer to them, the ďgutsĒ of the faucet.† The least expensive option would be to replace the O-rings on the inside of the unit, if possible, and if this will fix the problem.† To do this, turn the water supply valves off that go to the faucet (these are found under the sink).† There should be a small hole of the faucet where you can take the handle off by unscrewing it.† You will need a small sized Allen Wrench to do this.† Once off, you should be able to take out the parts that are inside.† Inspect the O-rings to see if they are torn or worn out.† If they are, you can take them to your local supply house and match them up with some new ones.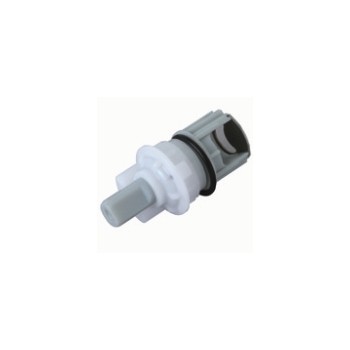 If it appears that the cartridge itself is broken in some way once you have removed it, take it to the supply house to see if they have one in stock.† If it isnít in stock, the people working there can usually find and order a new one for you.† Once you have the new part, put it back into the faucet, match up the handle to it and screw it back on.† The same procedures for the kitchen faucet can be applied to bathroom faucets as well.† The biggest difference comes when you are trying to fix a pull-out or side sprayer of a kitchen faucet.† Many times, you will just have to order the entire part for this type of fix.† Many parts can be found at: http://www.plumbersstock.com/